I recently heard a National Public Radio commentator say that the weather in Minnesota is miserable nine months of the year and then the other three months are miserable in a whole other way. Well, it's the middle of July and we find ourselves in those other three months when the two days of spring have passed and hot, sticky, summer weather takes over from the deep freeze. It's a great time for a lazing on the patio with a cold beer. I have been drinking a lot of wheat beers this summer and that has me thinking about summer beers in general.
Summer is a time for light refreshing beers. When the mercury rises you don't want to be weighed down by a thick, full-bodied beer. Nor do you want a lot of alcohol enhancing the already draining effects of the hot sun, leaving you in need of a nap after the first beer. Lean and crisp is the order of the day. But this needn't mean resorting to flavorless light lagers. There are a slew of flavorful beers and beer styles that are perfect for steamy summer sipping.
I mentioned above that I have been drinking wheat beers this summer. Generally, any beer with a large amount of wheat in the recipe will make a great summer beer. Wheat gives beer a refreshing zip and a substantial body that isn't too heavy. The high level of carbonation often found in wheat beers adds to their refreshment. There are a few styles of wheat beer to choose from. German wheat beers or Hefeweizen are the most substantial of the lot, full-bodied and cloudy from wheat proteins and suspended yeast. It is the yeast that gives these beers their great summer zip, filling them with the flavors and aromas of citrus, banana, and clove. Often these beers are served with a wedge of lemon on the glass. There is much debate over whether this is proper. The Germans do it, so I don't see why you shouldn't. I prefer to skip the fruit, but suit yourself and don't let anyone get down on you for drinking your Hefe with a wedge. My favorite authentic German wheat is Weihenstephaner Hefeweissbier from Munich. Minnesota's own August Schell Brewing in New Ulm also makes a great German style wheat beer that recently won a gold medal for the category in the US Open Beer Championship.
Other great wheat beer styles are American wheat and Belgian Wit. American wheats tend to be lighter and hoppier than their German cousins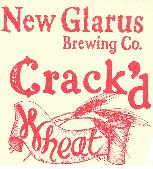 without the yeasty banana and clove character. The classic American wheat beer is Bell's Oberon, tasty with its hint of orange. Other favorites of mine are Goose Island's 312 Wheat and Crack'd Wheat from New Glarus. The latter is the most bitter of the three with a citrus/apricot Amarillo hop character. It's a great summer beer for hop heads. Belgian Witbier is lighter still, with a spicier Belgian yeast character that is enhanced by the subtle use of coriander and bitter orange peel in the brewing process. The classic here is Hoegaarden from Belgium, but I prefer Sterkens White ale. If you want to keep your beer buying dollar in the US, try Witte from Brewery Ommegang.
An often overlooked style of beer that is great for summer is Pilsner. A true pilsner beer is like American lager on steroids. Full of rich bready/grainy malt and pronounced spicy European hop character. The original and still among the best is Pilsner Urquell, a malty bohemian style pilsner with assertive, perfumy Saaz hop flavor and bitterness. But look for it in cans or on draft. If you get the green bottles it will most likely be skunked from exposure to light. Another good Bohemian pilsner is Lagunitas Pils from Lagunitas Brewing of Petaluma, California. For a great German style pilsner (less malt and higher bitterness) try Victory Prima Pils. It is a world-class pilsner in which I detect the lightest touch of citrusy American hops.
A couple of lesser known summer beer styles are the German Kölsch and the Belgian Saison. By law, a true Kölsch can only be brewed in the
German city of Cologne, however many American brewers make respectable Kölsch-style beers. A good Kölsch is like a more subtle and delicate version of a pilsner, with soft grainy malt and a lighter touch of spicy German hops. Fermented with ale yeast, Kölsch can have a softer mouthfeel and a very light fruitiness, although colder fermented versions can have a lager-like crispness. If you want to try an authentic German Kölsch, the only one I have seen in the Twin Cities is Reissdorf Kölsch. For a Kölsch-style beer brewed close to home try Goose Island Summertime Ale or Lake Superior Kayak Kölsch. Our own Summit Brewing will soon release a Kölsch as the first in their Unchained Series. Look for it in August.
Saison is a Belgian style farmhouse ale that was originally brewed to keep farmhands hydrated when access to potable water was limited. While there is great variation in this style, Saison is typically a light and effervescent beer with a golden/orange color. Bready malt is countered by a relatively high bitterness and black pepper spicy notes from the yeast, often accompanied by light stone fruit flavors. The finish is dry and spicy. The benchmark for the style is Saison DuPont from Brasserie DuPont in Tourpes, Belgium. My personal favorite is Fantóme. It has a more pronounced citrus character and a hint of wild yeast funkiness that I like. From the US I recommend Saint Somewhere Saison Athene, or the Boulevard Smokestack Series Saison. Locally both Surly and Lift Bridge brew examples; Cynic Ale from Surly and Farm Girl from Lift Bridge, which is now available in bottles.
I could go on and on about summer beers. They are light, refreshing, and easy to drink with enough variety to suit any palate. There are so many beers and styles that I haven't even mentioned here, Cream Ales, fruit beers, even some Belgian sours; the list could be endless. But I think I'll stop here and go sit on my patio with a nice, tall wheat beer.