I first became aware of Ilan Klages-Mundt back in 2010 when I was a featured writer at the Hoppress on Ratebeer.com. He had joined the Hoppress team at the start of a year-long adventure traveling the globe to intern at some of the world's great breweries. Along the way he penned several posts detailing his exploits. I recall experiencing a tinge of envy as I read about his work with Fuller's, Kiuchi (Hitachino Nest), Mikkeller, and others. I mean, how great a gig was that?
Ilan's posts stopped in February 2011. His journey of passion passed from my mind. But then I got score sheets back from a beer I had entered in a local homebrew competition. Ilan had judged my beer. I remember thinking, "What's he doing here?"
Turns out Ilan is a native Minnesotan, hailing originally from Winona. After his world tour he returned to his home state and settled in the Twin Cities. And of course the answer to what he's doing here is building a brewery.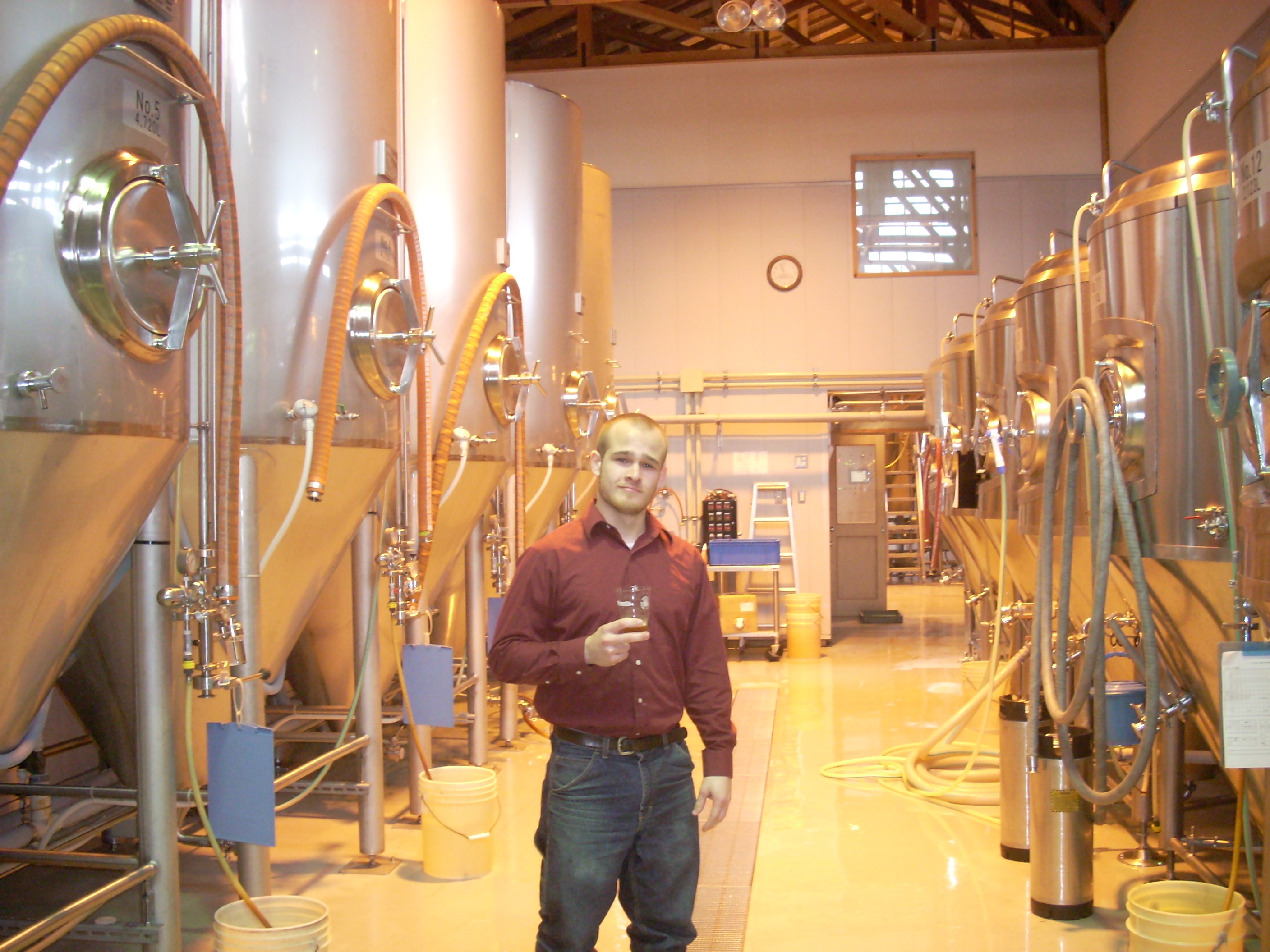 Insight Brewing Company is currently in the process of securing startup funds and hopes to open in the first quarter of 2014. They're looking at locations in Northeast Minneapolis, but won't yet reveal exactly where. The name Insight is inspired by Ilan's journeys. Working with some of the world's greatest brewers, he gained deep insights into brewing process, the beer industry, and world beer cultures. With Insight Brewing he wants share what he learned with beer drinkers here at home.
Ilan's craft-beer adventure began in 2007 when he was a music student at Lawrence University's Conservatory of Music in Appleton, Wisconsin. A sample of Sand Creek Oscar's Stout opened his eyes to the flavor potential of beer. He began tasting anything he could get his hands on. Armed with the Ratebeer Top 100 Beers list, he travelled to Denmark, eager to get his hands on some of the Danish beers he had read about. The store that he chose didn't have any of the beers on the list, but it did have Westvleteren 12. That for Ilan was an epiphany. Upon tasting that beer he knew he wanted to become a brewer.
When he returned to the states he began a period of intensive homebrewing and self-study. His passion was noticed by a professor who encouraged him to apply for a Thomas J. Watson Fellowship offered by IBM. The expressed purpose of the fellowship was to allow students to pursue a passion that was not related to their major. Full of optimism, he applied and contacted brewers around the world, asking simply if he could come and be an intern. Many said yes. But then he didn't get the fellowship.
Undeterred, he approached brewers again asking if in exchange for his free labor they would provide a place for him to stay and some meals. Again, many accepted. With $3500 in his pocket and the possibility of a little under-the-table work here and there, he set off for England.
His first stop was picking hops in West Kent, England. That was followed by time at the Fuller's Brewery in London. From there he set off for Japan to work at the Kiuchi Brewery, makers of the Hitachino Nest beers. He worked at the Fanø Bryghus in Denmark doing contract brewing for the likes of Mikkeller. He was hired as head brewer at the Søgaards Bryghus brewpub in Aalborg, Denmark. He ended the experience with a bike and brewery tour of France and Belgium.
Ilan says that the hardest brewery to work at was Kiuchi, starting with them forgetting to pick him up at the airport. When his ride did arrive it took him straight to the brewery where he began what would be a stint of 90 to 100-hour work weeks. The Japanese are known for their work ethic. They are also known for their respect of hierarchy. This meant that you started at the bottom regardless of prior experience. Ilan spent a lot of time doing basic brewery grunt work. It was difficult, but good experience for what's to come.
Ilan says that the most important thing he learned while overseas was to keep it simple. "Homebrewers often throw too many things in and get a muddled flavor." he says.  "Instead, let natural complexity come out by using only two or three malts."
His other big lessons were about beer culture. "Beer around the world is so much more accepted than in the majority of the states. We're growing quickly here, to where it's becoming much nicer. But still in England, and London especially, everyone is drinking a beer with their lunch or a glass of wine. Here not too many people do that. Some do, but not too many. I think that culturally beer has a long way to go in the states. It is getting there. I mean we're still at volume-wise 6.3% or something. It's tiny. In England cask beer is in the 30s. So just a huge difference."
Insight's beers will be globally inspired; not just Belgian and not just English or German. They are rooted in classic styles, but some tweaks on those styles will be part of the lineup. I had the opportunity to sample nine brews during my visit. They ran the gamut from a 2.8% alcohol "Piccolo" IPA to a 26% barrel-aged, ice-distilled barleywine. All of the beers were quite tasty. I particularly noted the solid fermentation character. A high degree of attenuation left every beer crisp and refreshing.
Here's a rundown of my favorites:
Lamb & Flag Premium Bitter – This is a classic English bitter that is named after Ilan's favorite pub in Oxford. He had access to all of Fuller's recipes, so this one is loosely based on London Pride. It smells awesome; neither malty nor hoppy, but balanced somewhere in between. A tinge of bitterness at the top is followed by toffee and biscuit malt. Bitterness returns at the end and hangs on into finish. Subtle orange-marmalade hop/yeast flavors fill in the background.
Piccolo IPA – The name is a nod to Ilan's music background. The piccolo is one of the smallest instruments in the orchestra, yet also one of the loudest. This 2.8% IPA drinks more like 4%. It presents a delicate, citrus hop aroma. Bitterness is firm, but doesn't blow you away, meaning you can drink a few without wrecking your palate. Citrusy lime, tangerine, and grapefruit hop flavors dominate with subtle grainy/biscuit malt to keep it balanced. It's a great summer quaff.
Saison de Blanc – This celebratory saison is brewed with Sauvignon Blanc grapes giving it a vinous and almost grape-skin tannic quality. It's fizzy and light like champagne, but never crosses a line to where it stops being beer. Floral and honey notes peek around the corners. I loved this beer as it is, but suggested that a version fermented with brettanomyces would be great.
The Yuzu – This was by far the most "interesting" beer in the lineup. It's an American pale ale brewed with yuzu, a Japanese citrus fruit. This one is a bit sweeter than the other beers and intensely citrusy with a mix of mandarin orange and grapefruit. The yuzu fruit provides a fruity flavor that is difficult to describe. Reaching for descriptors I came up with phenolic, but that isn't really quite right. It is most unique and quite delicious. The Yuzu will be an Insight taproom exclusive.